Motocross Madness 2
The Players
Jeff Litster (That One Guy)
Dave Holland (Toxic Waste)
Posted By: That One Guy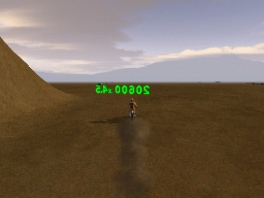 Dave (Toxic Waste) and I were reminiscing over old FNG recaps on the site on Wednesday. It brought back a lot of good times and got us fired up for a round of "push-the-envelope" on Motocross Madness 2. So we played 2 rounds of Halfgrand Playground, and 1 round of Pepsi Max at the end of the night and wow... seriously cool stuff.
The warm-up round was intense with Toxic hitting just below 1 Million and myself hitting 1.2 Million, with only 2 major wrecks. I was feeling in the zone and Toxic was warming up incredibly well to the halfpipes after a long stint away from them. He kicked it into high gear and smoked me on the second round, both of us scoring over 1 Million, and both
having 4 major wrecks. We both believe Toxic could have shattered his old score of 1.85 Million achieved on the 4th of July last year had he been able to stick all the landings. I think we all see some record-breaking in our near future. Final scores: Toxic = 1,691,850, That One Guy = 1,159,100
The gauntlet is again thrown... it should be an interesting tournament at the lan party this Friday.
On the Pepsi Max track, we both had a strong start, but only one held strong through the entire race. About midway through the first lap, Dave and I started grinding handlebars, and I took a fall. I had one wreck in the rest of the laps as well. Toxic rode smooth with no wrecks the entire time, with an astounding 1:40 best lap. Nothing beats springloading over the big hill (any of you that have played this track know which hill I'm talking about.) -- Toxic mega-cleared it during one of his laps.
It was a great night, sorry you couldn't all be there with us... dang impromptu gaming.