Motocross Madness 2
!! Get the Demo !! (~45MB)
The Players
Jeff Litster (FNG_tht1guy)
Jarin Blackham (Thundr)
Posted by: That One Guy
Since Toxic destroyed the 10-min all-time-high record on the halfpipes of Halfgrand Playground, I have been trying to find ways to become more consistent on them. So, Jarin (Thundr) and I started out playing them. I did ok... scoring over 1 Million, but nowhere near Dave's pinnacle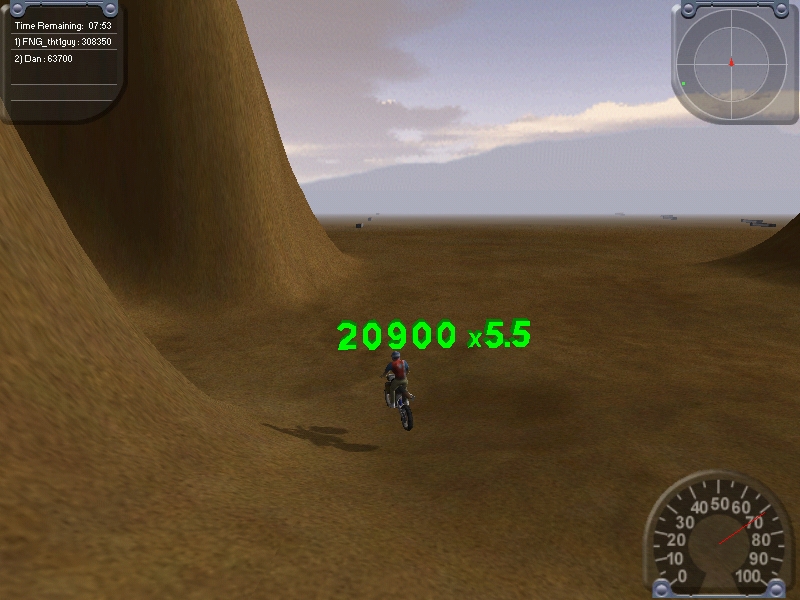 We decided to try our luck at Smokin' and see if our new settings would help us land the sik high-multiplier tricks better / land more consistently. You can see what happened in the image to the left. I hit my second 5.5 stunt... 700 shy of my current single air record (21600x5.5) - one more split second and I could've had/beaten it.
Jarin and I were both becoming more consistent. We matched Jarin's settings with the settings Dave and I have been messing with, and he found himself getting a little more air, and a little more consistency. He's all but convinced to go with a Wingman controller now! hehe!
Playing around with an idea, I decided to try taking a shorter runway for the Smokin' ramp, to see if I could compare with Dave's half-pipin'. The results are to your right. I scored a 1.2 Million the first try, with 4 major wrecks. When I calculated in the average scores the 4 wrecks would've added, my score resulted in 1.5 Million... That's after the first try. I'm excited to see if I can start putting the pressure on Dave again... sspecially after he declared his Independence on the 4th of July with his 1.72 Million - and spread the gap further by raising the bar to 1.8 Million.
So, word out to Dave. The potential is there. Prepare to be "Smokin' Spanked." I'll not only beat your 1.8 Million, but I'll do it on Smokin'... consider it brought!