Motocross Madness 2 Trial
!! Get the Demo !! (~45MB)
The Players
Ben B. (Ben)
Jeff L. (ThatOneGuy)
Jeff W. (Wolverinedell)
Jeff W. and Ben B. hadn't dirtied their boots with a taste of Motocross Madness 2 yet, so to start the night off, we decided to play a little of the Motocross Madness 2 Trial.

We had a blast racing and trying stunts on the two tracks available. Racing got mean as we started to add AI players to the mix, with Ben stealing the podium several times.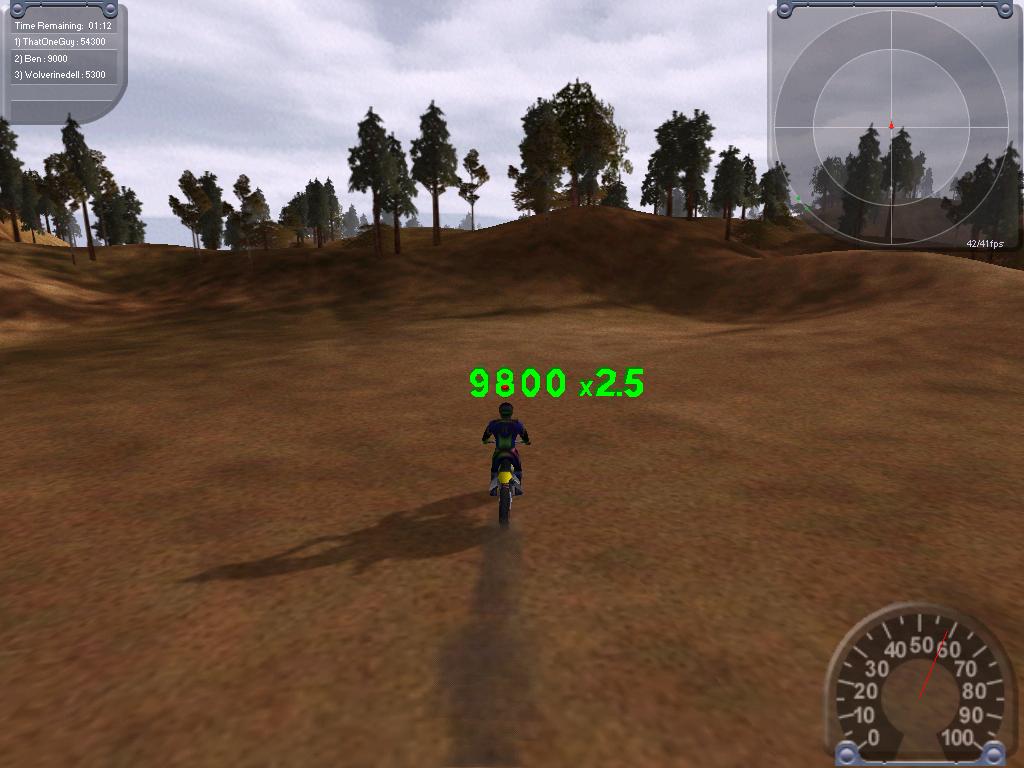 Later we tried some stunts... which Jeff L. majorly blows chunks at in MCM2. We become quickly acquainted with many trees and power lines. I was determined to pull a 2x multipler jump tonight, however.

The goal was to pull 2 nac-nacs, since those go pretty quick. What ended up happening was that the first nac-nac I ended up pulling with it's "alternate" ending, allowing me to add an extra .5 onto the multiplier... It took several attempts, but the last race of the night before switching to Age of Empires II: Conquerors, I pulled it. 9800 x 2.5 = 24500 pts in one jump, which beats my old record for MCM1 in score, but not hangtime... I'm sure I wasn't in the air 7 seconds for that jump. Good feeling to pull that many points in one air though.

Now to try for 3.... might be doable in the retail version, since you can tweak your bike settings...